Hot Wheels Turbo Driver
Hot Wheels Turbo Driver
I grew up in Mansfield Ohio, the home of the Mid-Ohio races so I have a true love of fast cars, which I have imparted in both of my children. My kids and I love going go carting in the summer and my son is a huge NASCAR fan. So, when we all first saw the Hot WheelsTurbo Driver which allows us to go on-line at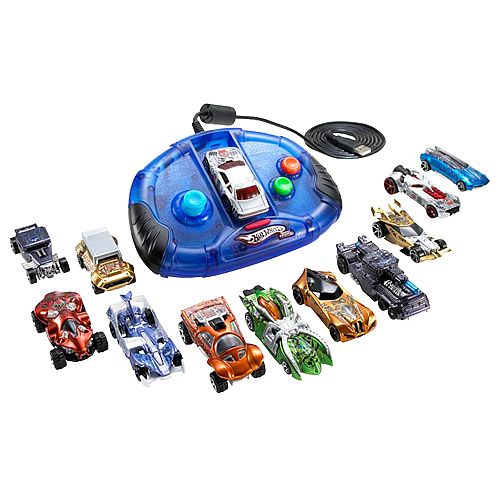 www.hotwheels.com and play the Race the World 3-D racing games on eight sweet racing terrains, we were so excited.My kids and I had fun personalizing our own cars and then picking which driving terrain we wanted.
The unit is a handheld controller that connects via USB port to the computer. (PC only at this point, and it requires a broadband connection.) While it's fairly simple by comparison to a console controller, kids should be familiar with and able to use it easily.
There are eight different cartridges that are actual Hot Wheels Cars (called Car-Tridges). When you plug one into the controller it actually unlocks different areas on the hotwheels.com site. What you see on the screen is a version of the car that you've plugged into the controller. According to Hot Wheels, each car works best in one of the different terrains so there are a lots of reasons to collect and try out the different Car-Tridges.
But there's more play in store.
Get this, the Car-Tridges are also functioning Hot Wheels cars so my son was able to take them down in the basement where all of his regular tracks and Trick Tracks are set up and continue the Hot Wheels racing fun off line. I think it's great that this game can be played online and doesn't require us to buy a separate gaming console. This is loads of fun at a very affordable price.
Hot Wheels Turbo Driver
Suggested Retail: $20.99 for the Controller with One Car-Tridge
Additional Car-Tridges $8.99 each.
Age Recommendation: 4+